Some Challenges That Come with Coworking and How to Handle Them
Coworking spaces have brought about a revolution on many fronts. In terms of work culture, the look and accessibility of a workspace, the perimeters of working units –starting from a single professional to small and midsized businesses (including start-ups) and how people reach at the desired business goals while being more social.
As a far better and cost effective alternative to traditional office spaces, they also have become the primary preferred ones by entrepreneurs. However, these do not make coworking or coworking spaces free of challenges. Similarly, challenges do not mean the shortcomings, rather scopes for a fine-tuned version. Let's look at the challenges at length and how they can be handled.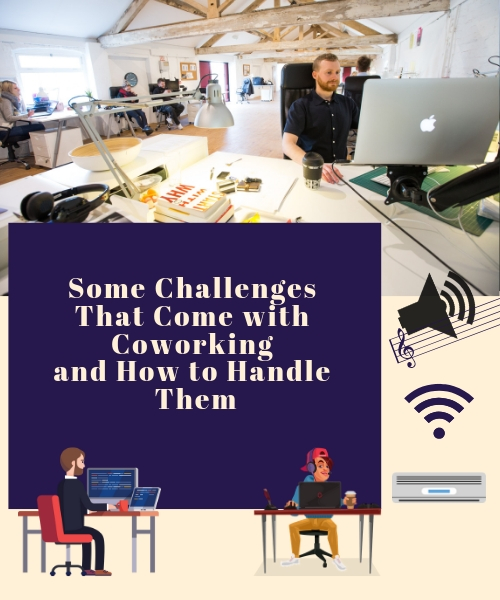 Noise and Distractions-
Particularly experienced by people that are new to coworking, any coworking space appears noisy. Some find it difficult to concentrate in the beginning. Skype calls, people briefing each other about work or even conversing casually might distract one. However, this can be addressed effectively. Firstly, you need to know that this is a kind of culture shock and not for a long time. As you spend more time in the space you'd find the fun in working there compared to an isolated place where there is nothing happening. You also can approach the space operator to let others know that you are getting affected. People in shared office spaces respect each other, and they would be more considerate. If you have a noise cancelling headphone, you can play some music that helps you focus in the meantime.
Internet-
Issues related to technology, especially the Internet can happen anywhere. Coworking office spaces are not immune to that. However, when the issue persists, that becomes unacceptable. First of all, this issue can be avoided by choosing a coworking space that is renowned for its services and amenities– such as Unispace. However, if you think that your space operator is otherwise cooperative and sensitive about customer satisfaction, you can directly complain or if there is a way to submit your feedback on services, you can put yours. Again, if the issue gets solved promptly and does not persist, good. As the issue gets fixed you can use your own data or ask a co-worker to share his/hers. People here love sharing, they would be more than happy to help.
Space Temperature-
This might not seem to be a major issue, but, in fact, many people raise this issue in coworking spaces. Any other communal space faces the same issue too. Classes, hospitals, metro trains, flights, restaurants etc.; you name it. Seldom than often everyone likes one temperature when there is air-conditioning. Since there could be no ideal temperature for all, you can explore these ways- either find a dedicated desk away from the AC, or get a private office that would cost a little more but give you a customisable ambiance. Or just let the space operator know about your issue. Then the temperate can be put in an agreeable level so that no one faces any issue. This is where the community building happens when people make you feel like a part of their group, and that is way coworking is great.
Networking-
Yes, networking! It is true that networking scopes are better in coworking spaces than usual, but if you are sitting back and not taking advantages of the facilities provided by the space provider, networking does not happen automatically. Beyond this, however, some professionals and start-ups try, yet fail in network building. Then you must realise that something is not going great. It also can be a challenge in the beginning, so take time to reach at this conclusion that it's a real issue. Then you can approach the facilitator or concerned person of the space operator and tell how you have not benefited from the events or other networking efforts made by them. Depending upon available options they might be able to help you more actively. But you should not get demoralised as everything in business takes a bit time in the beginning.
Coworking spaces- especially the ones that carry a reputed brand name- never leave any stone unturned because customer satisfaction is their top most priority. However, as a social place, shared office spaces have challenges. So, just let them know your issues, and they would fix it- at least Unispace does proactively! As long as the space provider is treating them as scopes to improve, as a customer you should be happy and play his/her part to improve the environment. Because coworking spaces offer you the best possible deal when it comes to the price of workspaces and what comfort, convenience and complements come with it.