Virtual Office Address for GST Registration
A virtual office is an access to the basic services that are generally provided in a traditional office such as permanent office address, meeting rooms or video conferencing rooms, a mail forwarding facility with a minimum charge, etc., without a room for real-life people. These offices are of greater benefits to the travelling freelancers, small businesses, startups and even to the businesses that are operated from remote areas. But these days, a large number of businesses who are operating from the city areas are also opting for this concept because of its cost-effectiveness. These are a good answer to the continuous increase in real estate prices. Typically, a company can save up to 25-30% of its commencement and operational expenditure by availing virtual office address.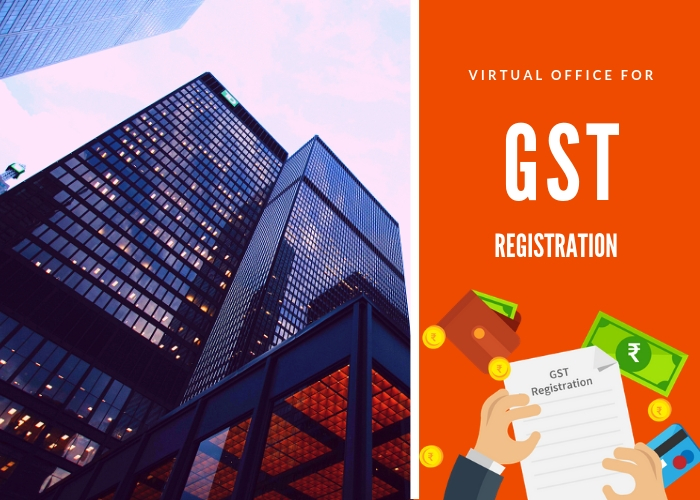 The virtual offices provide these office addresses for GST registration as well. There are a few below-
mentioned documents required for the registration: –
PAN Card of the business or applicant
Business registration or incorporation certificate
Identity and address proof of the Primary Authorized Signatory
Proof of place of business
Valid Indian bank account number
A Digital signature of the authorized person who can sign the GST application
Why Virtual Office Addresses?
In this fast-changing world with a faster mode of communication every day, the traditional office culture is being overshadowed by the shared office space culture;  these addresses are the need of the hour. Every year these offices are showing an annual growth rate of 21 to 25 %. The office space industry is increasing rapidly during the last decade in the country. And the introduction of the Startup India in 2016 has increased the pace of growth even more. Let us focus on the benefits of the virtual office address below: –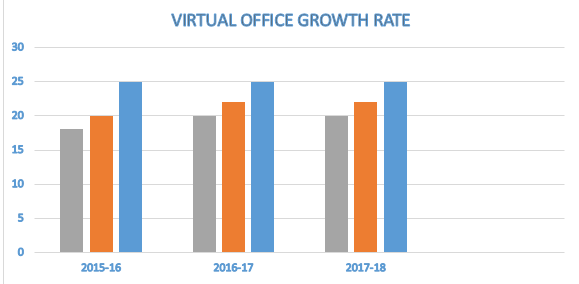 a) Avail all the facilities of an office by paying almost one-fourth of the price
The first and foremost reason for switching off to these is its pocket friendliness. With this, you don't have to pay rent for an entire workspace or even have to undergo the lengthy lease policies, no paying for utilities, staff handling expenses, etc. You can start your business at a much lower cost compared to the traditional work culture.
b) Creates a better professional image
Another bigger advantage of taking up a virtual office is the professionalism it adds to your business. These office spaces are generally set up at the major locations of the city. They will be providing you with a landline number, that looks more professional compared to your personal mobile phone number. And for a client meeting, you can also use their meeting or conference rooms, rather than coffee shops or restaurants.
c) Easy to expand
Expansion is no more a big deal. You can move to any of the cities of the world, your address will remain the same. Or you can even have presence all over the country without actually having an office anywhere. With these addresses, you can expand your business without any boundaries as it is a stress- free alternative as well as less costly.
d) More employees without worrying about the available space
Hiring has become simpler with virtual offices as space here is not a limiting factor. You can hire more and more employees without worrying about an available space. There is no physical space required as the employees can work from anywhere in the world.
e) No time spent in daily commute
Working at virtual offices cuts down your time and expenses. As per reports, on an average, a single person spends at least an hour per week being stuck in traffic. Therefore, if employees are saving this time and spend that time more with their family and friends, then it enables them to maintain their work-life balance properly.
f) Happy and active employees
When you cut down to your expenses in the business, you can then invest more in your employees. This will make them happy and motivate them to work with more perfection. Remember, that happy and satisfied employees can take your business too far.
g) Flexibility to work
The virtual offices offer flexibility to work. Unlike traditional offices, employees are not bound to work from 9 to 6, etc. They have the flexibility to change them according to their own conveniences. In between they can spend time with their families and friends, hence they will attain a work-life balance.
h) Eco-friendly option
Virtual office concepts are eco-friendly as you don't have to use vehicles to commute to your office, hence cutting down on the air pollution. No real office space is used and the business will run digitally. This will, in turn, reduces the amount of electricity consumed and paper wastes.
Unispace – Workspace Redefined
Unispace is a Hyderabad based virtual office address provider with its services spread all over the prominent places of the major cities in India. It provides all the required basic services like
Professional phone answering service by skilled staffs
Secured mailbox facility
Permanent business address for GST registration for a safe delivery of your parcels, etc.
Access to fully equipped boardrooms on hiring basis
You can avail our virtual offices for GST registration in Hyderabad, Bangalore and Bhubaneswar. Unispace's affordable services help entrepreneurs, small businesses, startups, etc. to operate in a hassle friendly way and also enables them to focus more on their work.