Evolution of Digital Nomadism in Coworking Offices
As we hear these days' newer trends like 'Remote Working', 'Coworking' 'Freelancing' where you find emerging professionals working remotely and traveling enviably into an incredible lifestyle in a way being a nomad in today's digital world. But what actually is encouraging this digital nomadism? Perpetual Jetlag, life in a backpack and coffee that tastes like 'boiled shoe leather' are certainly not encouraging this work trend. It is the un-conventional office spaces that are nestling Digital Nomadism with its all in one feature inducing a dock for techies between their travels. Let's see in what ways this match of Coworking and Nomadism can revolutionize the work culture ecosystem.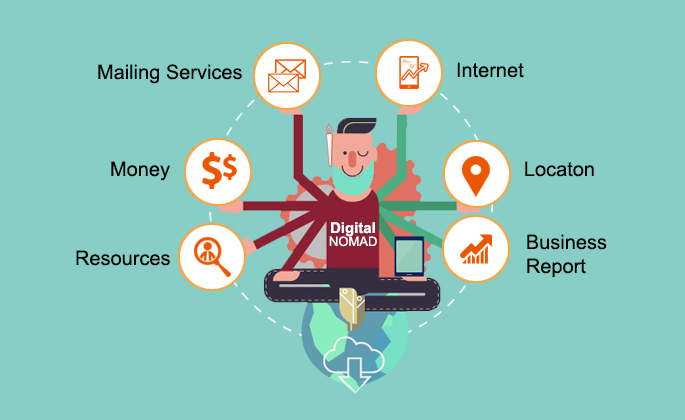 Meeting up Space Needs –No matter how much footloose and uninhibited a digital nomad is at some point he would need a formal professional set-up. With plug and play cubicles, workstations and cabins and conference rooms, all in a single package, shared office spaces are the perfect for globetrotters, to carry out their business works or high-end conferences, without any background noise. These managed office spaces further end the endless hunt for a free and reliable Wi-Fi and a physical address for receiving mailings. To put it simply, Coworking spaces offer nomadic techies with a well-furnished, clean workstations a relief from chaotic terminals, cafes and tacky hotel rooms
Technical Assistance beyond Mobile Devices – Mobile devices are lifelines for digital nomads maintaining personal and Professional communication. Well smartphones, tablets, and laptops can keep assignments running but still, there will be a need of printing and faxing documents, high speed secured internet set-up for airing projects, a fixed mailing address like any common employee.  Coworking space is a simple go-to solution for all un-portable technical needs.
Rejuvenate with Fellow Workers and Networking –Associations with similarly 'dislocated' specialists can induce creativity to provide a sense of 'professional brotherhood' a feeling of being a part of the whole, certainly an inviting change to seclusion and troubles of working alone. With the peer, association comes interaction with social and professional communities ensuring better networking options that would have been impossible working alone.
The Future Belongs To Digital Nomads :

– With the society caught up in the idiomatic 'Rat Race' suffocating the idea of a life of leisure. It's the practical picture, a typical American dream of 'Get it now and pay later' that is driving the modern workforce into a confused mental state of submission with satisfaction stuck with their shackles of debt and the monotonous '9 to 5' obligations. To break free these social taboos, all you need is a flexible work schedule with time for your family, friends and getting back to nature, to wander around worldwide becoming a Digital Nomad, working whenever feel so, with a schedule of your own.
So, with Unispace Business Center , it's time to make even your vacation the most comfortable time to work on…working on even vacationing!