Here is Everything You Need to Know About the Office Space Types
People starting to work in a perceivably organized way has its own history, and so have office spaces where people have been working for centuries. Like the way people's ways of doing things have evolved, the office spaces have gone through many changes adopting new conveniences as well as values. Irrespective of the differences they have, people still have to go to their workspaces regularly and spend a vital part of the day, as well as their lives, in their offices. Office spaces directly determine the productivity, sociability and success of the office-going people, and that is why it is important to talk about the major office space types –if not all—and see what they offer or lack, and what kind of workspaces are getting popular among the working folks.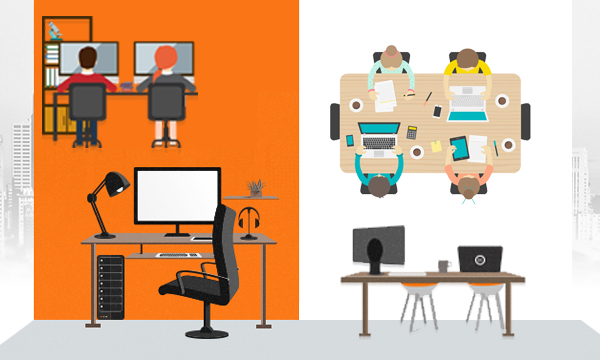 Traditional Offices –
The name suggests the nature of the offices, and what is often understood is- they are expensive in nature. The early corporate culture used to be associated with traditional workspaces quite extensively. Individual buildings with monotony- unless highly customized interiors, third-party servers when it comes to facilities such as cleaning, connection and conveniences, and complex entry and exit clauses define such office spaces. Simultaneously, they are not necessarily in prime business locations- since back in time finding a place to put office was difficult. Usually, a dedicated meeting room comes with the office space, but not always. Although less preferred in the present time, traditional office spaces used to be the only available options –and a matter of status and pride—for companies for many decades. This also had the small and midsized companies invest in an office space for long -however not logical- as a social demand.
Business Centers –
Business Centers were actually the immediate result of the impact felt by the small and midsized companies due to the social demand of having a traditional office. Not only they are more affordable but also easily accessible and managed by the office space provider, so there is no need to have a third party that takes care of the services and conveniences. Business Centers are designed to host a number of small companies in one building with facilities like reception, cafeteria and fixed parking lots. Startups also prefer Business Centers over other kinds of workspace options because of their streamlined process and functioning. On top of these, some other facilities that are occasionally used –such as the meeting rooms- are provided on demand and rent than made mandatory to hire permanently along with the office space. This reduces the financial burden on SMEs as well. Apart from that, since a lot of companies work in close proximity with each other, these environments prove to be great places for networking and collaboration. Needless to say, Business Centers are more likely to be located in prime business locations in cities, so they become even more attractive and desirable as an office choice.
Shared or Coworking Spaces –
Shared or Coworking office spaces have become the talking point of many start-ups, and independent professional- especially freelancers that wanted an open office space where people not only from different projects, backgrounds and interest share the environment but also values. Considered as flexible and temporary workstations, these shared office spaces offer a combination of a great many things for a reasonable price. A vibrant ambiance with a Business Centre like conveniences, easy access and great opportunities for networking characterize a Coworking Space. At the same time, for a large team or people looking for a permanent set-up might not have much to get from here.
That is why many office providers such as Unispace offer both Business Centers as well as Coworking Spaces. The combination is not only complementary to each of the types of office spaces but also makes  teaming up, collaboration- which means business growth and success- more probable. That is the reason many entrepreneurs fancy having their Private Office here to exploit the possibilities that come with it.
Virtual Offices –
Not completely a physical office on their own, Virtual Offices have become a trend of the spreading businesses. These are primarily -but not limited to- business addresses with GST registration, and can be treated as a permanent business address to enter a new market. Office providers also provide services like call/mail handling, client hosting, occasional meeting rooms and business lounge facilities on a subscription basis. For offshore firms these are the cheapest way to having a presence in a new market. Similarly, professionals that do not have a professional looking address, and therefore not taken seriously by the business world, hire these Virtual Offices in Business Centres that are present in Prime Locations such as Central Business Districts or city centers throughout the world.
Different types of offices indicate different types of demands that coexist in the market. Simultaneously, their varied popularity also shows what people are preferring more, and what type of office spaces are losing their significance. Therefore, consider carefully which types serves you best, and then choose!